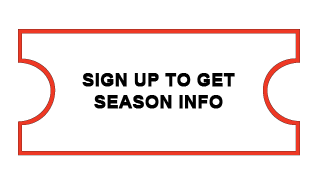 THE GENESIUS GUILD & GENESIUS THEATRE FOUNDATION
Free theatre in the park... all summer long... Shakespeare, Greek drama, Greek comedy, and ballet. A unique classic theatre experience located in Rock Island, Illinois.
THE GENESIUS GUILD
The Genesius Guild is a Quad Cities theater specializing in free classical drama. Founded in 1956, the group performs Greek drama, Greek comedy, the works of Shakespeare, and other classical authors every weekend throughout the summer. The schedule also includes ballet in partnership with Ballet Quad Cities.
The diversity and focus of the Genesius Guild makes it a unique summer program. We provide free, outdoor theatre in the middle of the trees in Lincoln Park, Rock Island, with a strong focus on the classics. Greek tragedy, performed in mask, and Shakespearean comedies and tragedies are the base of our schedule, and are performed as written, with period costuming and scenery.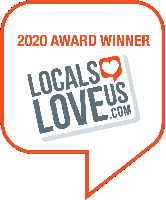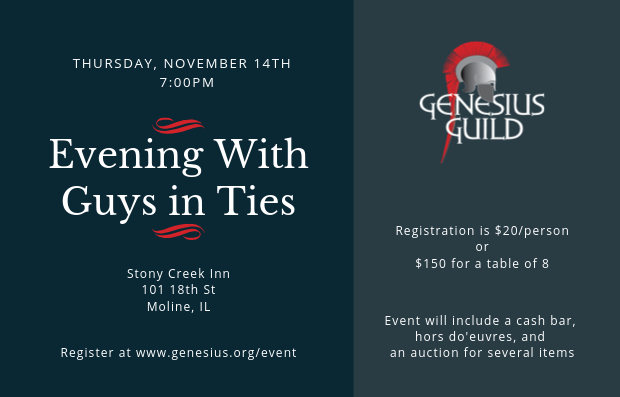 Get "Shakespeare'd" with Guys in Ties!
We are excited to hold a fundraiser event in partnership with ComedySportz's Guys in Ties. This will be a fun evening of improv comedy - with a Shakespearean twist, of course! In addition to the performance by Guys in Ties, the evening will also feature a silent auction for items that include original artwork by Bill Hannan and Greek tragedy masks. Hors d'oeurves will be served, and there will be a cash bar.
Individual tickets are $20, or you can purchase a table for 8 people for $150. All ticket proceeds go directly to the Genesius Guild's endowment campaign and to funding the costs of producing free live theater.
Find out more information and order your tickets here!
---
2019 Season Schedule
We are excited to announce our 2019 season! This season includes a Greek tragedy that explores themes of human nature, and two of Shakespeare's most powerful and poignant plays. And, of course, it includes a helping of ballet and Greek comedy!
June 7, 8, 9
Ballet Under the Stars
June 15, 16, 22, 23
Shakespeare: The Tempest
June 29, 30 & July 6, 7
Euripides: The Bacchae
July 13, 14, 20, 21
Shakespeare: Hamlet
July 27, 28 & August 3, 4
Aristophanes: Ecclesiazusae
All performances begin at 8:00 PM.
---
The Genesius Theatre Foundation follows an equal opportunity employment policy and employs or contracts personnel without regard to race, creed, color, ethnicity, national origin, religion, sex, sexual orientation, gender expression, age, height, weight, disability status, veteran status, military obligations, and marital status. This policy applies to all Genesius  Theatre Foundation employees, volunteers, members, clients, and contractors.